INTRODUCING THE AWARD WINNING LASER EPILATOR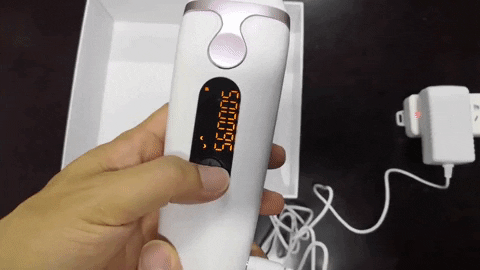 - Voted best Laser Hair Removal of the year Resolve Pain & Gain Pleasure
Features:
● IPL hair removal technology derived from professional salons for home use.
● For use on full body. Gentle and effective even on sensitive areas of the body.
● With UV filter, safety skin tone sensor and cool to the touch pulses.
● 4+ years of full body treatment.
Proven effectiveness
Over 75% hair reduction after 4 treatments
Objective studies show significant hair reduction in as little as 4 treatments. After these four treatments, you can enjoy the freedom of smooth skin for up to two months between treatments.
How to use:
● Step 1 Remove excess hair by shaving, epilating or waxing the area before the first treatment.
● Step 2 Select the correct intensity level.
● Step 3 Turn the unit on and press it to your skin. Wait for the ready to the flashlight to turn on and press the flash button.
Is it suitable for me?
As with any other IPL treatment, It requires pigment in the hair to attract the light. After the light is attracted the hair roots heat up and stimulated not to grow back. In a similar fashion, a low level of pigment in the skin is needed so that the skin will not attract the light. Thus, It works on (naturally) dark blonde, brown and black hair and on skin tones ranging from very white to dark brown and does not work on red, light blonde and
white/grey hair, or on very dark skin.*
Are there any long term effects of IPL usage? Is it safe for my skin?
Professional IPL treatments already exist for 25 years and researches hasn't shown the appearance of skin cancer or fertility issues. No serious side effects or damage from long-term use have been reported. IPL technology is derived from the technology used in professional salons. We have adopted the technology for safe and effective use at home. We have been developed in conjunction with leading dermatologists and tested with over 2000 women. It fulfills all the safety regulations for home-use appliances. As with any skincare product, it is important to use the appliance in accordance with the user manual.
Our safety system ensures that light flashing is only possible if the attachment is in full contact with the skin. The integrated UV filter ensures that the light only affects the hair and not the skin. We recommend to use the product in a well-lit room, to reduce the perceived brightness of the flash. Side effects and complications, while possible, are very unlikely as long as you use this product according to the instructions and precautions included in the user manual.
Is this product safe to use on the face?
By checking your skin type, you can choose the specific setting that will ensure effective yet gentle treatment on your face. As the area around your eyes is very sensitive, we recommend using the product only below the cheekbones in order to avoid the risk of eye damage. To achieve optimal results on the cheeks, upper lip and chin, stand in front of a mirror to get a good view of the area to be treated and the 'ready to flash' light.
SHIPPING AND HANDLING 
We are offering FREE delivery on all purchases today! Due to extremely high demand, orders can take 14-30 days to ship and arrive. You will receive full tracking details so you will have full clarity on the status of your order.
30 DAY MONEY BACK GUARANTEE & 5 STAR CUSTOMER SUPPORT 
We are so confident you will fall in LOVE with Best laser epilator that we will offer you a 30 day money back guarantee and offer 5 star customer support if you have any issues or questions!