FIX SLOUCHING INSTANTLY: RELIEVE BACK & NECK PAIN FROM POOR POSTURE AND LOOK CONFIDENT!
The Luxury Posture Corrector is one of our most comfortable, affordable and highly reviewed posture corrector to date. Its super light weight to wear and a compact design that cleverly hides under your clothes, making it easier to wear in different times of the day such as at work. Finally you can get confident posture and pain relief without expensive surgery. 
BACK & NECK PAIN RELIEF
Poor posture can be detrimental to health! Millions of people suffer from poor posture, especially due to computer work or play. Long hours working in front of computer screens pushes the head and neck forward causing extreme slouching over years. The Premium Posture Corrector counteracts this and helps create healthy confident posture.
So whether you are male or female, athlete or gamer, our Posture Corrector is a must. The Premium Posture Corrector fits comfortably and is adjustable to multiple body types. It firmly pulls the shoulders back, eliminating the "rounding" of shoulders which cause unhealthy poor posture.
LOOK MORE CONFIDENT!
It is said that body language is 80% of communication. And healthy correct posture communicates confidence. Studies show that men and women who have more better posture, get more job interviews! More studies also show that people with great posture get 3x more dates than people who slouch!
Additionally, our Posture Corrector is amazing for helping athletes maintain proper back form while working out to also help prevent injuries. Look confident, feel confident and be healthier!
SIZING INSTRUCTIONS
Medium: For adults up to 90 lbs - 180 lbs (40 kg - 82 kg) .

Large: For adults between to 181-265 ls (83 kg - 120 kg).
FEATURES & BENEFITS
Easy to wear under your clothes

Relieve back pain
Fixed bad posture instantly
Very comfortable & a

djustable

Adjust posture to a confident position
HOW TO USE
Put brace around shoulders

Tighten and use velcro strap to hold in place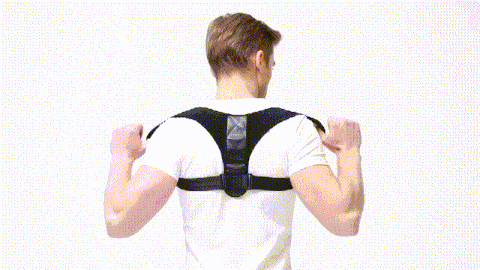 WHY LUXURY POSTURE CORRECTOR?
Luxury Posture Corrector is not about a temporary fix. When your body adjusts to wearing our Posture Corrector, muscle memory will form so that even when taking it off, your body will naturally adjust to its newer and healthier posture.
The lightweight but firm material is adjustable and made of breathable material which means you can wear it all day for maximum effect. Even under clothing!
FREQUENTLY ASKED QUESTIONS
Question: Will this weaken my back muscles?
Answer: No it will not! Our posture corrector is not made out of super stiff material that will keep your posture locked in place like a cement vest, nor is that even healthy. Our posture corrector is an aid that helps your muscles maintain the correct posture, acting as a constant reminder to your and your muscles that keep your posture straight. Your muscles will develop over time to maintain it.

Question: Will this pinch my arms/shoulders?
Answer: No, unless you are wearing the posture corrector incorrectly. If you experience pinching either you are wearing it too tight or you are slouching your shoulders into the posture corrector too much. Loosen the straps to your comfort level and pull those shoulders back!  That's the beauty of Viral Posture Corrector, if you are slouching, it will become uncomfortable, forcing you to keep your shoulders back to regain comfort. It is the perfect way to strengthen your muscles to develop long term healthy posture.
Question: What size is right for me?
Answer: Our product comes in medium and large sizes. With specially designed stretchable materials and straps, it can be adjusted to all body types, men or women. See sizing chart below:
Medium: For adults up to 90 lbs - 180 lbs (40 kg - 82 kg)

Large: For adults between to 181-265 ls (83 kg - 120 kg).
Question: Can women wear this too?
Answer: Yes! It's especially designed to fit around male and female physiques.
Question: How long can I wear it?
Answer: Your body will not be used to the new posture, so it will take time. Stop wearing it as soon as it becomes uncomfortable; take a break and wear it again. We recommend not wearing it to sleep. Most of our customers achieve great success wearing it 2-4 hours at a time.
Question: Can women wear this too?
Answer: Yes! It's especially designed to fit around male and female physiques.
Question: Can I wear it under my shirt?
Answer: Yes! Viral Posture Corrector is designed to be sleek so that it fits under shirts or clothing, so you can be wearing it in public without people noticing. But for maximum comfort, consider wearing it over clothing.
RECOMMENDED BY THE EXPERTS
"As a chiropractors for the last 10 years I would say using the viral posture corrector is a must for anyone who wants to fit their posture and resolve back pain. I  recommend it to my patients." John Hobbs – Chiropractors at Kings Medical Centre 
FIVE STAR RAVING REVIEWS ⭐⭐⭐⭐⭐
"My posture has improved dramatically after wearing the Premium Posture Corrector from Prime Deals World for a week!
I feel less back and neck pain. And the improved posture has boosted my bust size! Nice bonus for it being better than a push up bra lol."
- Chelsea, Yoga Trainer
SATISFACTION GUARANTEED - EASY REFUND

If for whatever reason, you decide you are not satisfied, you can easily and quickly contact our helpful customer support 24/7 to get an easy refund with our 30 day money back guarantee. We have a 5 start customer support system and will give quick responses to any questions.
ACTION REQUIRED - SPECIAL OFFER + FREE SHIPPING ENDING SOON! 
Our MEGA promotion is ending very soon and after receiving thousands of orders for Luxury Posture Corrector, stock is now extremely limited. Therefore, select your quantity and click BUY NOW to avoid disappointment!